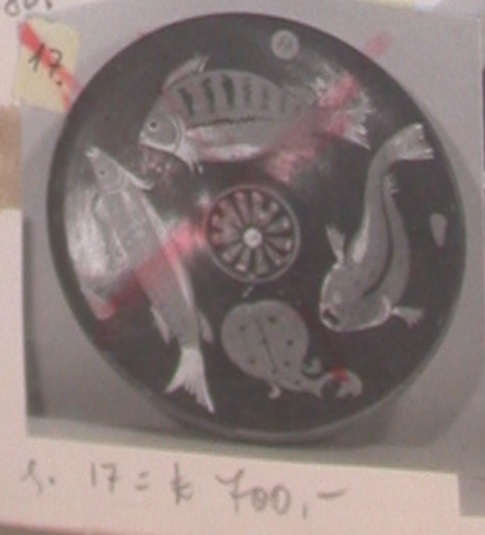 Object Description
Apulian Fish-plate
Apulian fish-plate attributed to the Darius Painter workshop, depicting three fish and a flounder swimming around a central depression with a rosette , scrolls around exterior rim, the decoration enriched with white paint, shells in the field.
Identification Date
01 Oct 2019
Identification Location
Royal-Athena Galleries, New York
Artefact History
Before 1983
One image, depicting the same fish-plate, suggest that the antiquities dealer Gianfranco Becchina was in possession of this artefact. The image was discovered by Tsirogiannis in the archive confiscated from the antiquities dealer Gianfranco Becchina.
1983
On May 17, 1983, the fish-plate was consigned by Becchina at the Sotheby's antiquities auction in London, as lot 262. It was sold for £700 and acquired by Jerome Eisenberg, owner of the Royal-Athena Galleries, New York.
October 2019
The fish-plate appeared in the website of the Royal-Athena Galleries, with the provenance 'J. M. E. collection, New York, acquired at Sotheby's, London, May 1983'. Tsirogiannis identifies the fish-plate in October 2019, but it was already appearing as 'SOLD' on the website of Royal-Athena Galleries. In 2021 publishes an article referring also to this case (Tsirogiannis 2021).
Artefact Status
2020
Unknown. The identity of the person who purchased this fish-plate before October 2019 is not known and Royal-Athena Galleries was permanently closed in October 2020 announcing that the remaining artefacts were transferred to 'Hixenbaugh Ancient Art'.