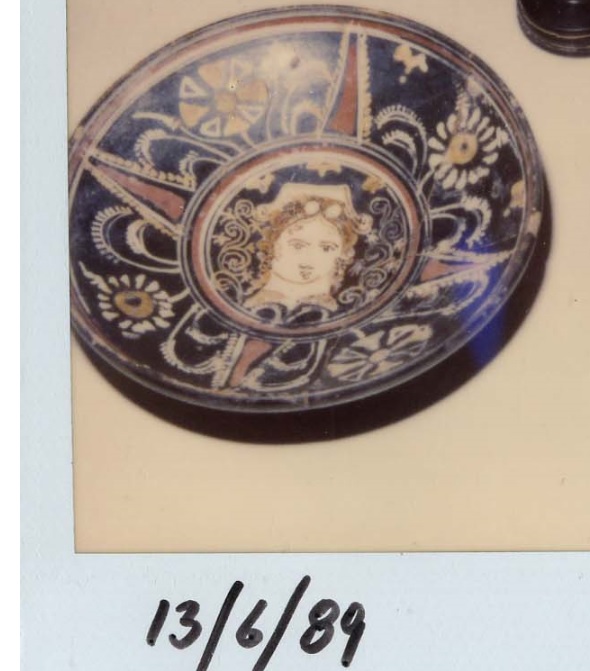 Object Description
Apulian Gnathia Bowl
Decorated in pseudo-red figure style centring a facing female head in added white surrounded by flowers and rays in added red, yellow and white


Identification Date
October 2019
Identification Location
Royal-Athena Galleries, New York
Artefact History
13 Jun 1989
One Polaroid image, depicting the same bowl among other South Italian antiquities, suggests that the antiquities dealer Giacomo Medici was in possession of this artefact. Below the image, on the white margin of the Polaroid is written with a black marker the date '13/6/89'. The image was discovered by Tsirogiannis in the archive confiscated from the antiquities dealer Giacomo Medici.


September 2000
In September 2000, the bowl was on sale at the gallery 'La Reine Margot' in Paris and was acquired by Jerome Eisenberg, owner of the Royal-Athena Galleries, New York.


2019
The bowl appeared in the website of the Royal-Athena Galleries, with the provenance 'Ex J. M. E. collection, New York, acquired from Reine Margot [sic], Paris, September 2000'.
October 2019
Tsirogiannis identifies the bowl in October 2019 and in 2021 publishes an article referring also to this case (Tsirogiannis 2021).
Artefact Status
October 2020
Unknown. Royal-Athena Galleries was permanently closed in October 2020 announcing that the remaining artefacts were transferred to 'Hixenbaugh Ancient Art'.