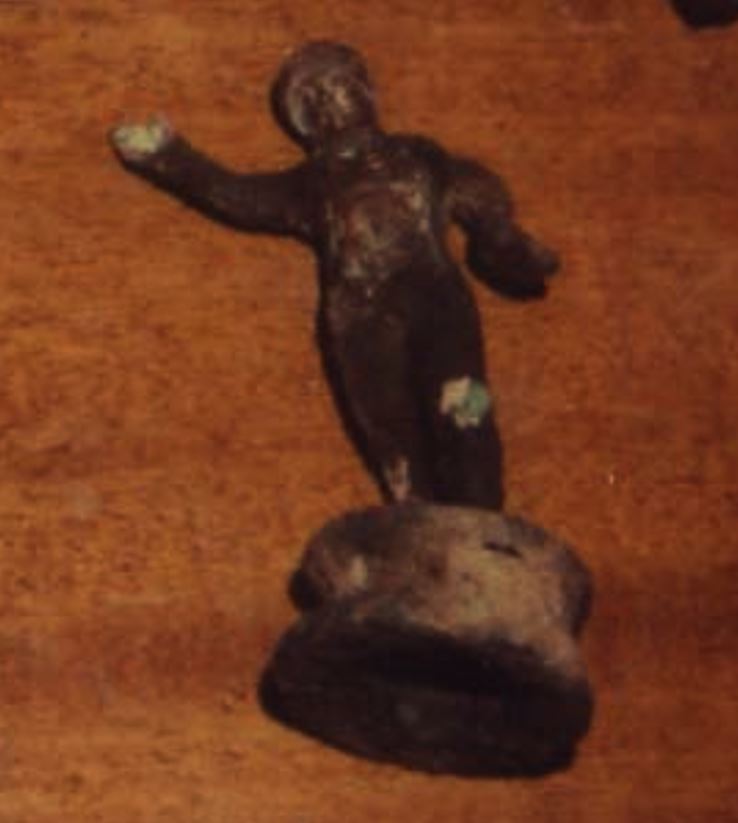 Object Description
Etruscan Bronze Nude Male Dancer
The figure's body is twisted forward and his arms are extended. It is a decorative figure from a candelabrum.
Identification Date
01 Oct 2019
Identification Location
Royal-Athena Galleries, New York
Artefact History
Before 1990
One regular-print image, depicting the same figure among other bronze antiquities, suggests that the antiquities dealer Giacomo Medici was in possession of this artefact. The image was discovered by Tsirogiannis in the archive confiscated from the antiquities dealer Giacomo Medici.
14 Dec 1990
The same figure appears for sale in the Sotheby's antiquities auction in London, on December 14, 1990, as lot 235. It was allegedly bought by an anonymous Swiss collector and remained there until 1995.
1995 - 2011
The same figure appears on sale in the Royal – Athena Galleries catalogues of 1995, 2003 and 2011.
2019
The figure appeared in the website of the Royal-Athena Galleries, with the provenance 'Ex Sotheby's, London, December 14, 1990, lot 235; Swiss collection, 1995'. Tsirogiannis identifies the figure in October 2019 and in 2021 publishes an article referring also to this case (Tsirogiannis 2021).
Artefact Status
Unknown. Royal-Athena Galleries was permanently closed in October 2020 announcing that the remaining artefacts were transferred to 'Hixenbaugh Ancient Art'.