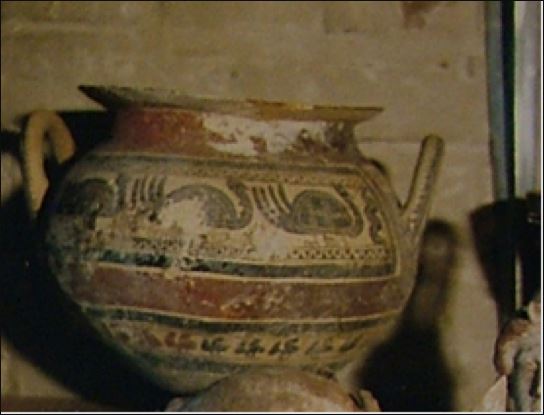 Object Description
Peucetian Stamnos
Peucetian pottery stamnos, from Apulia, around 6th century B.C.
Identification Date
November 10, 2011
Identification Location
Artefact History
1988
In the Becchina archive the stamnos is shown uncleaned and covered with salt encrustations, in a warehouse, standing on a shelf among other uncleaned South Italian antiquities, in several regular-print photographs. In a handwritten list of objects that is included in the Becchina file entitled 'RAF 1', it is clear that the stamnos has been bought by Becchina from Raffaele Monticelli (mentioned in the 'Organigram' as a main supplier of Becchina), on 5 March 1988, for 20,000 (presumably Italian lire). The vase also appears in the Becchina file entitled 'C', depicting antiquities that Becchina has sold to Christos Michaelides, partner of Robin Symes, but the stamnos is not depicted in the confiscated Symes-Michaelides archive. Therefore, it remains unknown whether Symes and Michaelides acquired the stamnos or not.
01 Jun 1995
The stamnos was auctioned by Sotheby's, in New York, as lot 310. It was an anonymous sale and the stamnos has no provenance. It was estimated at $2,500-3,500 and it was sold for $3,450.
10 Nov 2011
The stamnos was identified by Christos Tsirogiannis, as lot 154 at the Christie's antiquities auction in New York, scheduled to take place on December 7, 2011. The provenance information given was: 'Provenance: Anonymous sale; Sotheby's, New York, 1 June 1995, lot 310. Pre-Lot Text: Property from a Private Family collection, New Jersey'. It was estimated at $4,000–6,000.
15 Nov 2011
Tsirogiannis notified the Italian public prosecutor Dr. Paolo Giorgio Ferri about this identification and others that were made from images included in the Symes-Michaelides archive. Based on this information, Ferri wrote a letter to Christie's concerning the identified objects.
07 Dec 2011
The stamnos is auctioned by Christie's, in New York. It was sold for $9,000. All other identified objects were also sold.
Artefact Status
26 May 2015
Repatriated to Italy, place of exhibition or storage is unknown to the administrator of this website.

Mr. Dario Franceschini, the Italian Minister of Culture and Tourism, together with Mr. John R. Phillips, Ambassador of the United States in Italy, Saverio Cotticelli, general of the Italian Police, and Mariano Mossa, commander of the Carabinieri Art Squad, announced in Rome the repatriation of 25 cultural objects (most of them antiquities) from the United States to Italy. Among the 25 objects was the Peucetian stamnos. The announcement stated that the Peucetian stamnos was identified by the Data Processing Section of Carabinieri and the repatriation of the 25 objects was made possible with the cooperation of the Homeland Security Investigations-Immigration and Customs Enforcement (ICE) of the United States. The name of the owner of the stamnos at the time of confiscation has not been made public. Apart from the stamnos, none of the other objects identified by Tsirogiannis in the December 7, 2011 Christie's auction were included in the 25 repatriated objects.


Read more:
External Link